On Monday 11th May 2020, our Premier Daniel Andrews announced new restriction changes for Victoria.
Restriction Changes for Indoor and Outdoor Gatherings
From 11:59PM Tuesday, 12th May 2020:
"…there's now a fifth reason to leave home: visiting friends and family – with a maximum gathering of up to ten outdoors and having up to five visitors in your home." – Statement from the Premier – Daniel Andrews (11 May 2020)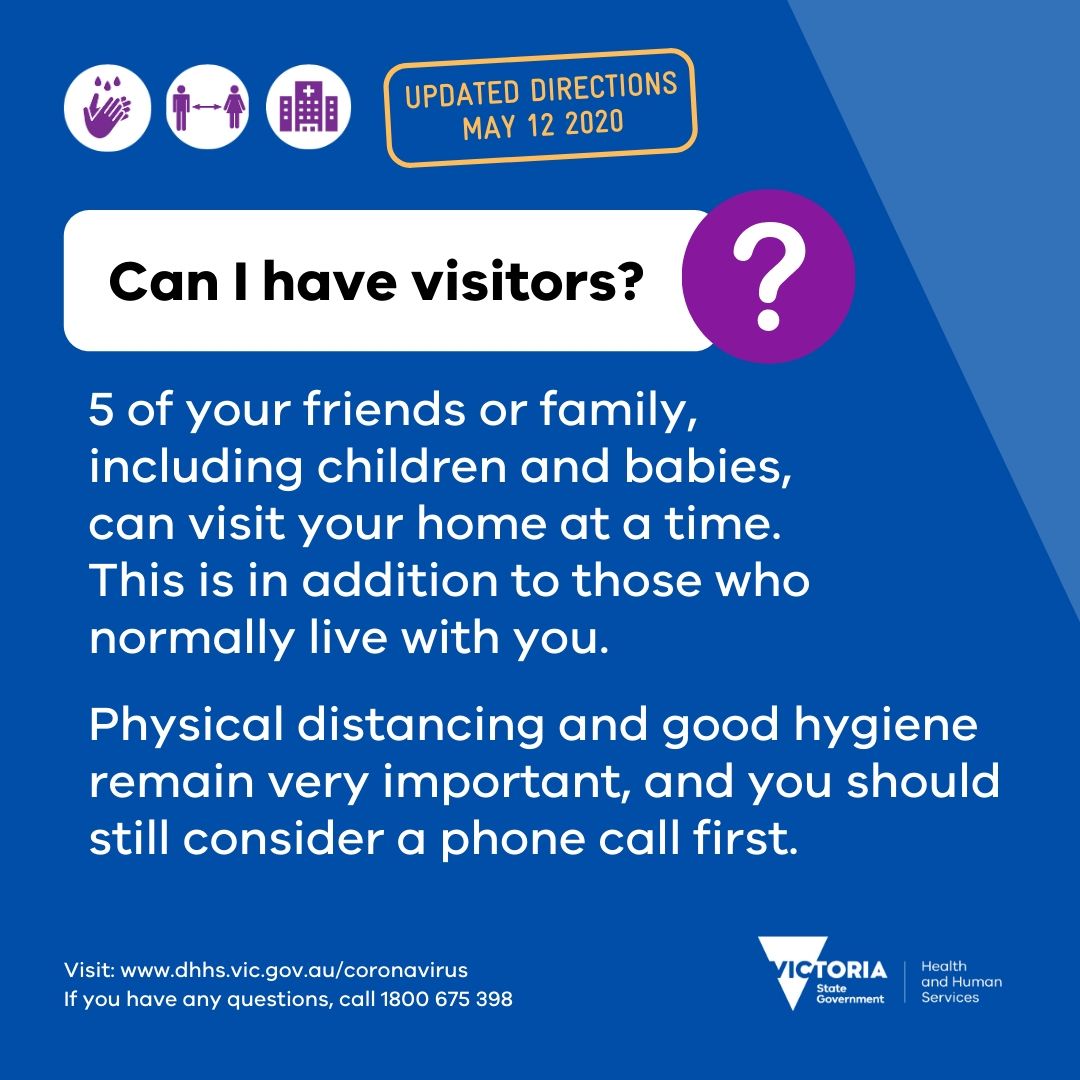 This means, besides the current four reason to leave home – shopping for food and supplies, care and caregiving, exercise, and study or work (if you can't do it from home), people can now leave their homes to visit family and friends if necessary.
Additionally, weddings can now have up to 10 guests, and funerals can have up to 20 guests indoors and 30 guests outdoors.
Most recreational activities will also be available now – subject to physical distancing. Some activities which you can now enjoy include: walking groups, fishing, hiking and golf.
All rules for restrictions, including the ones mentioned above, will remain in place until 31st May 2020.
Restriction Changes for Schools
From Tuesday, 26th May 2020:
"all Prep, Grade 1 and Grade 2 students, specialist school students, as well as VCE and VCAL students will return to on-site learning at government schools. The next fortnight, and a pupil free day at all schools on 25 May, will give staff, schools and families time to prepare for the change." – Getting Our Kids Back into The Classroom – Daniel Andrews (12 May 2020)
This means, within the next fortnight, many students will be able to receive normal on-site classes on campus. Students with parents who are unable to work from home will still be able to attend school on-site as required.
All other students (from Grades 3-10) are scheduled to return to school Tuesday, 9th June 2020.
Restriction Changes for Real Estate Agencies
How will these new restriction changes affect residential auctions and inspections?
According to the recently released Restricted Activity Directions (No 7) and Stay At Home Directions (No 6):
Auction houses, real estate auctions and inspections for residential properties can now allow up to 10 people of the public to attend. These 10 people do not include the owners or the people required to run the auction/inspection.
Any auctions or inspections of residential properties must also ensure:
A name and contact number for each person is recorded down with a time and date for contact tracing purposes.
The number of people in a single undivided indoor space does not exceed the density quotient of 4sqm per person.
These restrictions for residential auctions and inspections will also apply between 11:59PM Tuesday, 12th May 2020 to 11:59PM Sunday, 31st May 2020.